Black Anti-Finger Soft Touch Film--TDS
Material Description
It is BOPP based, one side is Velvet touch matte layer.
Structure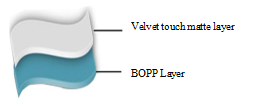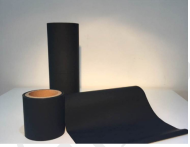 Typical properties

Unit

Values

Test method

Material

/

BOPP

/

Thickness

Micro

28

Density

g/m2

0.91

Corona Value

mN/m

≥38

Corona pen

Inch

3 Inch

/

Max Width

mm

1200mm

/

MOQ

Sqm

10000sqm

/

Roll length

M/Roll

3000m±

200m/roll

/
Features
1.It has a velvet soft touch;
2.It can be compounded with any paper with smooth surface;
3.Lamination can adapt to bronzing, local glazing and other processes;
4.It has More bright and soft in black Color;It has more special matte effect;
5.Good resistance to scuff
Applications
1.It could be used in paper lamination. Suitable for packaging boxes, advanced book covers,and brand paper products, etc,widely used in the printing industry.
2.Special fingerprint-proof tactile film, elegant and delicate, can be restored by pressing or wiping within 10s.It has funtion of anti-finger print , mean anti-finger print soft touch film , it can be anti-finger print.
1.The two sides of the package are reinforced with cardboard or foam, and the whole periphery is wrapped with air cushion and wrapped with stretch film;
2.All around and at the top of the wooden support are sealed with stretch film, and the product certificate is pasted on the outside, indicating the product name, specification, batch number, length, number of joints, production date, factory name, shelf life, etc.Inside and outside the package must be clearly marked the direction of unwinding.
Storage Condition
Products should be stored in clean, dry, ventilation, temperature and appropriate relative humidity of the warehouse, which is away from the heat source of not less than 1m, avoid direct sunlight, not piled up too high storage conditions